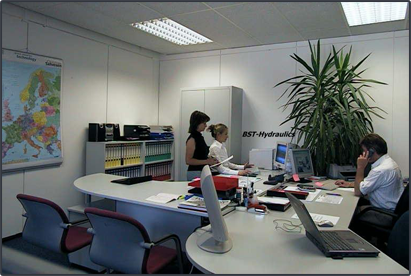 bst hydraulics GMBH specializes in the world wide export of hydraulic, pneumatic and electronic spare parts or components with constant technical consultation in the assembly and design.
Stocked product lines range from simple hand or gear pumps, gerotor motors, manual control valves, through to custom cartridge manifolds and load sensing equipment with electro-proportional and sevro valving.
Product is sourced from selected well-known, quality companies. The majority of which are fully ISO 9001/2 accredited.
We are often in the best position to find optimum hydraylic and pneumatic solutions to your application needs.
We have introduced our strategy with success in several enterprises worldwide and look forward to expanding.
---
bst hydraulics
… your excelent choice of supplier of hydraulic component and equipment in Europe today!
---
Partner & Service
With full system design and service facilities, large stock holding and 24 hour x 7 days a week backup, BST-Hydraulics has the knowledge and experience to provide customised solutions to customer requirements.
We co-operate with renowned manufacturers, who also offer world wide technical support – we arrange that for our buyers – and we specialized in the products of these manufactures.
BOSCH-REXROTH, EATON-VICKERS, HYDAC, PARKER, SUN, MAHLE and many more.
Application resources are shared throughout the company to provide maximum benefit to new projects and applications.
bst hydraulics strives to work with its customers to achieve a quality service at competitive prices and short lead times. Our product stocking philosophy is based on customer requests and usage. We endeavor to carry in stock, at all times, a full range of products. In addition, products that are not normally stocked can be sourced and expedited for customers as part of the complete service package.
Logistik
We ensure on-time delivery!
Our logistics are specialized in export, which ensures very punctual delivery of goods at all times.
Our partners here are Fedex, UPS International, TNT and DHL, who are well known internationally.